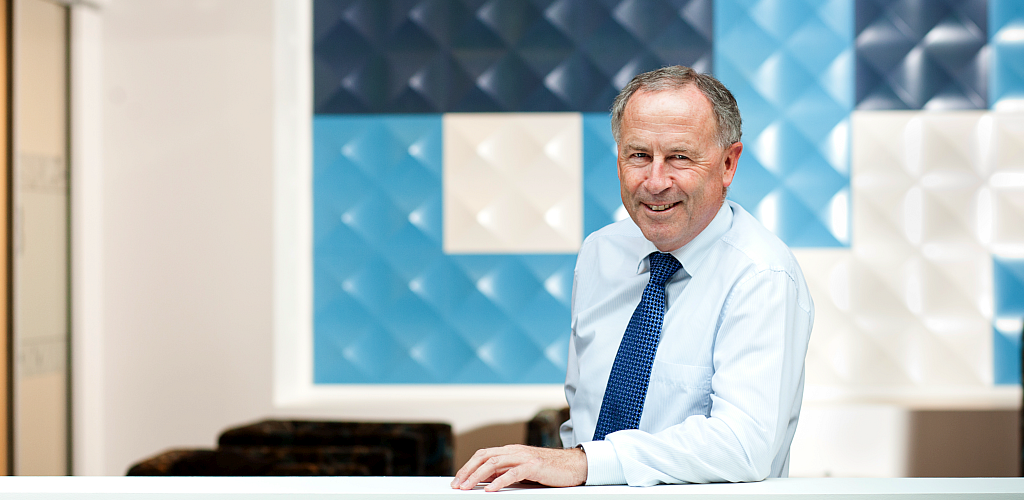 ---
I have served all of my law career at Saunders & Co, joining the firm in 1980 and becoming a partner in 1985. During this time I have enjoyed being part of the firm's steady growth and working with a great team of people.
Law is somewhat of a family tradition, my father served as a Christchurch lawyer and later as a District Court Judge. Before I decided to study and practise law, I had a brief career as a mathematics teacher in Auckland.
I enjoy the general nature of my work which is mainly with private clients dealing with property transactions, family trusts, general administration, wills and estates, along with providing legal advice. I like to meet clients in person at the start of the process in order to develop a good understanding of their needs and take great satisfaction in achieving their desired results.
Outside work, I enjoy giving back to numerous community and charitable organisations and clubs in both a professional and voluntary capacity. I am a trustee of the New Zealand Mathematics Enrichment Trust, on the board of the Christchurch Golf Club, a treasurer of Burnside Park Tennis Club and a life member of Crockford's Bridge Club of which I am a former president and treasurer.
I specialise in the following areas:
---
What My Clients Say
"I first used Ben Frampton, of Saunders & Co, for my first property purchase back in 1994. Ben has looked after our affairs since then, which have included more property dealings. Ben's work included resolving some curly issues around a property investment in Lyttleton in 2006 (land purchase and building contract). We were impressed at how he handled things without hesitation or fuss. Another example concerned a house building dispute. Ben's assistance resulted in the house build being completed, with the ownership being transferred to us, without prejudice to our claims. This meant we minimised any accommodation inconvenience, preserved our legal position, and saved money. Ben's calm demeanour, consistent communication style, and professional approach have left us stress free, and with total confidence in him. You hear stories of disputes once lawyers get involved, racking up costs, with taxi tariff charging styles for the likes of making phone calls and sending faxes. This has never been the case with Ben, and the fees charged have been more than fair considering the multiple dealings he has often had to undertake on our behalf. We have been, and still are, overseas-based. Ben takes this into account in his communication. He is always thorough in contacting us, explaining issues and receiving our input, before taking action. The staff members at Saunders & Co have always provided good and pleasant service to us."
Stephen and Lesley Clark, Australia
"I have known Ben Frampton personally for almost 20 years, and over that time I have been made aware of his very solid reputation for sound advice, reliability and proficiency as a legal advisor. Latterly, as President of The Burnside Park Tennis Club, I have had the pleasure of working alongside Ben in his role as Club solicitor. His advice is always knowledgeable and efficient, and has been the cornerstone of many important decisions, often in areas which have been sensitive and crucial to the Club's well-being. Ben is highly respected for his integrity and his objective assessment of emerging issues, and the Club is extremely grateful for his readily available expertise. My own confidence in Ben is such that he is also our family solicitor. I have no hesitation in recommending him to others."
John Campbell, President, Burnside Park Tennis Club and Chairman, The Sir Richard Hadlee Sports Trust Christchurch
"Saunders & Co has handled Annette's and my legal work from the time we purchased our first home in 1978. Ben Frampton has handled a number of real estate transactions for us since then as well as advising us on business and estate matters. Recently he handled some very delicate negotiations with regard to my late mother's estate and was able to agree an outcome, which was fair and acceptable to all parties. This was done in his normal calm and considered manner, which helped settle a potentially stressful time for my sister and me. I have recommended Ben to a number of clients over the years and will no doubt continue to do so in the future."
Ian Rule, Real Estate Agent Christchurch
"I was introduced to Ben Frampton in 2003. I have employed his services since this time, both as my personal lawyer and, in my real estate agent capacity, to many conveyancing clients. Ben has mostly looked after my property matters, both commercial and residential. He has also assisted with the purchase of company shares and maintaining my family trusts. In acting for my clients he has from time to time been able to provide helpful and straightforward suggestions in order to complete transactions that were sometimes looking difficult. I have always found Ben to be extremely clear with a no-nonsense approach to legal matters. I have never found Ben to be protracted about any of his dealings and this is one of the attributes I most appreciate in a sector where fees can be racked up by the hour. Ben's response times are very quick and if he is unavailable, his support staff are extremely accommodating and helpful. I have absolutely no hesitation in recommending Ben and Saunders & Co."
Debi Pratt, Sales Consultant and Business Owner Harcourts Holmwood, Christchurch